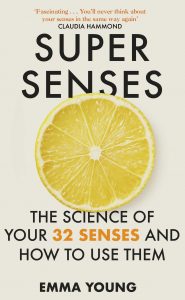 Out in April, 2021
How do you sniff out danger? What is a sense of direction or a gut instinct? You know about your five senses: hearing, sight, smell, taste and touch. But recent research has shown that we actually have at least 32. We take our senses for granted but what would be possible if we properly understood how they all work? 
Using the very latest cutting-edge research, award-winning science writer Emma Young explains the exploits of record-breaking freedivers, whirling dervishes, super-tasters, stock market millionaires, and many more. Discover how touch can ease pain, how taking your pulse can make you fitter and why Abba's
Dancing Queen 
sounds different in Bolivia.
Available to buy here
.
Sharing surprising secrets from blind ballerinas, voodoo priests and even a nurse who can smell Parkinson's disease before it is diagnosed, Super Senses uncovers the science behind these abilities that make us human – and offers fascinating lessons in how we can all learn to use them better. Could being more sensitive make us happier, healthier – or even wealthier?
'Fascinating… You'll never think about your senses in the same way again' — CLAUDIA HAMMOND
'Remarkable… Should be read by every person with a body' — GAIA VINCE, Channel 4 presenter and award-winning author of ADVENTURES IN THE ANTHROPOCENE and TRANSCENDENCE.
'How to better train our abilities from balance to empathy, gut feelings to our very sense of self…. A sensory delight' — JO MARCHANT, NYT-bestselling author of CURE and THE HUMAN COSMOS.
'An awe-inspiring guide to our sensual world that will leave you in wonder at your own astonishing perceptual powers. With cutting-edge science and extraordinary personal stories, Emma Young offers evidence-based strategies to protect and fine-tune many of those abilities – with potentially life-changing consequences. Along the way, Super Senses busts some of the most enduring myths about the human body and mind' — DAVID ROBSON, author of THE INTELLIGENCE TRAP
'This book changed the way I sense the world. I'd say eye-opening but that's too limiting: this is sense-opening stuff' — ROWAN HOOPER, author of SUPERHUMAN