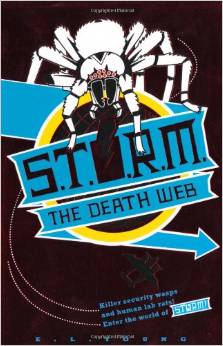 The fifth and final instalment in the high-octane S.T.O.R.M. series!
S.T.O.R.M. are: Will Knight: Inventive genius. Creates cutting-edge gadgets. Andrew Minkel: Software millionaire. Founder of S.T.O.R.M. Gaia Carella: Brilliant chemist with a bad habit of blowing stuff up.
A scorned movie director is taking his dastardly revenge – on those who panned his latest film, and on the world! When S.T.O.R.M. take a trip to Palm Springs, they discover that Benedict Belvoir's retreat for sick kids is not what it seems – and the mind-boggling truth is more sinister than any movie . . . .
Fast paced, gadget-packed action – perfect for adrenaline junkies!
Published by Macmillan.
Read more here. Buy ebook here. Buy Kindle edition here.
Goodreads reviews:
Action-packed novel with plenty of super technology.