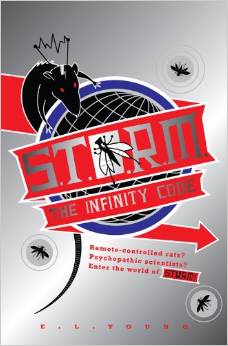 In just a few days Will Knight lost everyone he cared about and his world is falling apart. Then he's invited to join secret organization STORM. He doesn't know anything about them, but they know all about him – particularly his talent for inventing gadgets.
STORM is the brainchild of fourteen-year-old software millionaire Andrew. Other members are Caspian Baraban, a brilliant astrophysicist with an immense ego, and Gaia, a chemistry genius who loves blowing things up. But when Caspian's father is abducted, evidence suggests he and Caspian have created a world-threatening weapon. Will leads STORM in pursuit from Paris to St Petersburg and finally face to face with a psychopath. Armed with three brilliant brains, iron courage and a remote-controlled rat, can STORM face down the enemy and can Will face the uncomfortable family secrets that their actions uncover?
Macmillan, Jan 2007. Buy e-book here. Kindle edition available here.
Published by Dial in the US.
KIRKUS REVIEW:
Will's father is dead, and his mother has returned to Russia to grieve, leaving him in the care of a family friend in London. Smart, inventive and a loner by nature, Will is discontented with his new life, resents his mother's absence and isn't at all interested in making new friends. So when he's approached by Gaia (the only student who can come close to his intelligence) to join an elite group of teens who want to help set the world "right," his first reaction is to reject the invitation. But events conspire to make him not just a part of the group, but its strongest motivator. Joined by Andrew, STORM's wealthy, brilliant but not very practical founder, Gaia and Will are soon hurtling across Europe in pursuit of their friend Caspian. He's headed to St. Petersburg to rescue his scientist father. With him go plans for the deadliest invention known to man; if activated, it could eventually eat the earth. With the aid of his Russian grandmother and her friend Vanya, not to mention some cool gadgets, it's up to Will and his friends to save the day. Well-written, and featuring good character development, this is also well-researched—all the gadgets are based upon actual concepts already in development. A mixture of adventure, teen angst, espionage and science, its readers will hope for a sequel. (Science fiction. 10-14)